Happy Hump Day! Can you believe it's Wednesday already? I really can't! That means it's one day closer to Friday, the day we go to Busch Gardens! I love Busch Gardens "Howl-O-Scream". Have you ever been? The park is already beautifully decorated for fall, but after dark there are haunted walk-thrus/mazes and scare zones set up all throughout.
The walk-thrus are very elaborate, and although you can get approached by the characters, they won't touch you. That's the kind of haunted house I can handle! It is amazing the detail that they put into each one. One of my favorites from the past has to be one that had creepy clowns. Imagine circus music, messed up looking doll and clown faces, and lots of bright colors throughout the maze. Yeah, I might be a little bit messed up for liking this stuff, but when I go to Howl-O-Scream I'm surrounded by other people that are too! This visit will be special as my son's first time at Busch Gardens. I can't wait to see if he likes rides as much as I do!
Speaking of my son, we have been enjoying some crafts this week, thanks to the Dollar Tree. I LOVE THAT STORE. I have really gotten into the habit of checking there first before I go overspend on products somewhere else. I picked up several more Halloween decorations the other day, plus three crafts for Riker. Three crafts for $3. Seriously? You would pay four times that anywhere else. This week he's done a painting craft and a haunted house craft, and we still have another Halloween craft left for another day.
Now let's get on to the title of this post, shall we? Today I'm linking up with Jenn over at Peas and Crayons and fellow bloggers once again for What I Ate Wednesday (WIAW), a chance to share my eats/recipes for the day. Thanks to Jenn for hosting!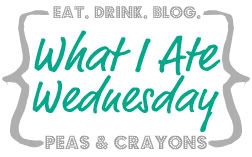 Here is everything I ate yesterday:
OK, so, I forgot to take a picture of breakfast. Instead, here is a recent simple and fast breakfast I enjoyed. Cottage cheese and a banana.
I had lunch out yesterday with my friend, Jamitress. It was so good to catch up with her! We managed to get a table at the Scullery, a place that usually does not conform to my 1 hour lunch break. It was a slow day for them which was a plus for us! I had a green goddess salad and tomato bisque. So SO so good.
I had an un-pictured granola bar for my afternoon snack, and after work decided to get a little pick-me-up from Dunkin'. I tried the pumpkin creme brulee latte. It was way too sweet and syrupy. It's not like the pumpkin spice, or anything else at Starbucks. I was not a fan.
For dinner, I have been craving broccoli for some reason, so I decided to roast some in the oven. It was delcious! Just what I was hoping for. Recipe below!
I had the broccoli alongside a single serving broccoli cheddar quiche, a frozen Trader Joe's entree. It was also very tasty.
My son, however, did not enjoy either of these things and since I can't really expect a 2-year-old to enjoy quiche, I made him a PB&J using Jif Whips Maple Brown Sugar we scored on clearance from Target. It is really yummy and since it's pretty sweet, you don't need much!
And for dessert, we split this adorable doughnut that I also picked up from Dunkin'. How cute!
Roasted Broccoli
Make your broccoli delicious with this simple recipe!
Author:
Kristen, kristenione.com
Recipe type:
side dish, vegetable
Ingredients
1 head broccoli
olive oil
salt
garlic pepper
Instructions
Set oven to broil (mine automatically set to 525 degrees).
Remove stems and place broccoli in a large bowl.
Toss with olive oil, enough to coat (don't go overboard) and add salt and a generous amount of garlic pepper, or other seasoning of your choice.
Place on a baking sheet and broil for 15 min or less. Keep an eye on it as it will burn quickly.
So that's my eating for the day.
What about you? Any new finds or good meals to share?